Mango
Learn Health benefits of Mango, Mango Nutrients and side effects and more about these fruits. Fruits are an amazing anti-depressant, to know more about its nutrient chart, health benefits, reactions and facts then read the following article:
Summer is here, so is Mango.
Do you know why mango is called King of Fruits?
Mango is called the king of fruits because of its bright yellow color and its mouth-watering taste, since its taste varies from sweet to sour, it has the biggest fan-base, when mango is raw it remains green, some people love to eat mango raw with salt, pepper, and chili, but when it turns yellow its taste changes from sour to sweet. Nothing is sweeter than a fully ripped fruit, some people just love to eat fully ripped fruits, it has its separate fan-base (including me).
Let us now know more about this amazing fruit in detail below, which nutrients does it carry with itself.
Mango nutrients
Know more about Mango nutrients and minerals which makes our lives healthy, long and happy
This is known to be a rich source of potassium and vitamin C, it is a low-fat fruit, therefore, it is also loved amongst the group of people who are fitness freaks. Since it is low-calorie there is no harm in eating this fruit, for people who want to reduce their weight. Let us have a look at this fruits nutrient content in detail below:
Water
Carbohydrates
Sugar
Dietary fiber
Protein
Vitamins
Vitamin A, B, C, D
Niacin
Riboflavin
Folate
Thiamine
Minerals
Potassium
Magnesium
Manganese
Sodium
Phosphorous

Health benefits of Mango
Read here about its health benefits, and explore a brighter and healthier side of life with this fruit
Like every other fruit, Mango is also loaded with many health benefiting agents, which not only enhances our physique but also improves our immunity, though the fruit does not help you reduce body fat it does not increase it also. Let's have a look at some special benefits that we will get from eating fruits. Read more.
Builds muscle strength
Digests food
Increases immunity
Increases metabolism
Boosts energy
Very good for people who have low B.P problems
Increases blood sugar level (it can be boon for people suffering from low sugar but at the same time bane for people suffering from high sugar)
Reduces the risk of fluctuating blood pressure
Helps reduce constipation
Brings a glow to your skin
Lowers depression
Lowers anxiety and nausea

Side effects of Mango
There is nothing perfect, same is with mango, there are some side effects of it let us have a look at them also,
It is a very rich fruit if has multi-disciplinary benefiting agents. It is not only healthy but tasty also. Fruits provide us with a healthy body as well as skin. Though it is called King of Fruits, but it can have side effects too, which could be very dangerous at times, let us have a look at some risks of eating fruits at a very high rate i.e. eating more than 10 Mango per day (quantity varies from person to person calorie intake and their health conditions)
Loose motion
High blood sugar level (if you already suffer from sugar)
Bleeding nose (it increases your body heat)
People who experience itching, headache and choked throat after consuming fruit must consult their doctor. Read more.
Facts about Mangos
Never drink water after eating this fruit.
Its fruits eaten raw will show different effects from, when mixed with other things.
If you make its chutney and eat it with 2 chappati, it's calorie intake is equal to 2 chappaties, 1 bowl dal, and 1 bowl rice.
Fruits can be stored in the form of pickle, chutney and frozen.
To know about more different fruits and their benefits be connected with garden-infographs.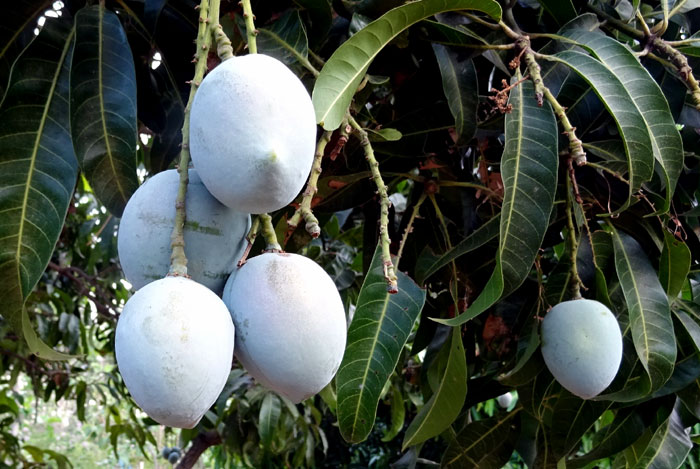 Know: How to grow Mango tree, Growing in containers. Read.
Must read:  Banana Health benefits.  Health benefits of papaya.  Pineapple Health benefits and nutrients. Health benefits and nutrients of Fennel. Health benefits of Kiwi fruits. Custard apple Health benefits and nutrients.
For Pin: